Want to expand and develop your own natural abilities?

Do you wonder what the next level, or even higher could be for you and how to do that?

How can you be the best?

Contact me now and let's chat about how I can help you - the initial session is free.

by engaging with me, a Coach and expert on networking and making connections that matter,- I can give you the confidence for success.
Whether in business or life in general, Nurturing aids in development and growth.
The addition of Wisdom and having someone share your Journey, even if simply to help you with any roadblocks along the way.
I have spent my whole life in the Financial Services Industry, initially Corporate, and now own a Financial Planning Practice with my husband Steve.
I have the runs on the board and can show you how it can be done and also steer you away from those mistakes that we all make along the way, and that we learn from.
Having developed a huge network of my own, this allows me to introduce and connect both people and businesses to add value to their existing growth plan.
Learning from others and knowing from them what is happening in their world helps me assist others in their own high performance.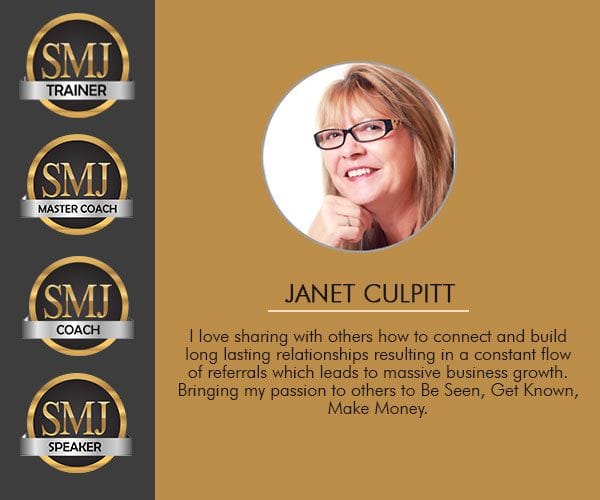 As a coach for passionate people, looking to expand what matters to them and create a successful plan for growth and sustainability, my lifelong experience in the business industry, entrepreneurship and life, allows me to work with you to develop your own impeccable skills.
I am passionate about coaching people.
Helping others to - Be Seen, Get Known, and Make Money!
I believe in the power of being your true self, that everyone needs a Coach ( I have several ), overcoming personal limiting beliefs that we are simply carrying on from the past, and are not necessarily our own, and can be found transforming people through a range of High-Performance Coaching packages, group workshops, and events, published articles, keynote speaking, networking and private mentorship.
I look forward to chatting soon. What are you waiting for? - request a call now -
Accredited and Featured Nationally in print and radio media regularly: