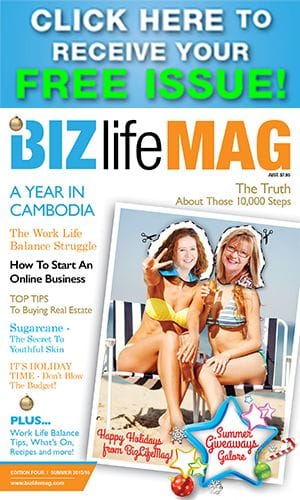 Work Life Balance
Balancing work and family life is a constant hot topic and struggle for many businesses and families.
That's why Janet created a strategic alliance with a business partner (met through networking), created BizLifeMag a unique and innovative online publication,
more than just your average magazine.
Helping businesses through an interactive experience where they can enhance their advertising by adding interactive elements such as video,
pop-up windows, and slideshows as well as hyperlinks direct to their website and email addresses.
A publication covering a variety of informative subjects from Business and Finance, through to Education, Health and Wellbeing, plus tips from experts
on achieving that work/family balance. With a ever growing distribution, BizLifeMag is the perfect place to invest your marketing spend and to increase exposure
and reach a wider audience.
Another form of "networking" and ultimately attracting a steady stream of new clients.
For more information, please visit http://bizlifemag.com/about-us.